Custom Made Softball Bats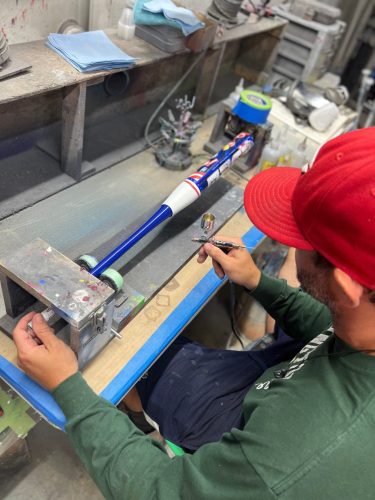 Pure Sports Technologies is well known for our custom bat capabilities and we pride ourselves on our unique ability to provide both small and large batch custom orders starting at just one bat!
Let our bat be your canvas!
PLAYER CUSTOMS
Are you a player and want to order a 1-off custom? – We can do that!
**Custom hand drawn artwork or characters will be an up-charge
TEAM CUSTOMS
Are you a team that wants to get a small batch of 10-20 bats to match your uniform? – We can do that AND you can get a discount!
RETAIL CUSTOMS
Are you a retailer looking to do a run of custom bats to resell? – We can do that!
For larger orders exceeding 25 bats please contact us directly. Anything over 10 bats will get a significant discount over the prices below. Contact us today to get setup and working with a designer.
Design your own Custom Softball Bat Online
Please be sure to read our full copyright guideline below before placing your order

Once you have placed your order our design team will reach out to get any additional information we may need to produce your design!
Design Process
You will work directly with the in house Pure designer to ensure all of your vision comes to life.
Once you place your order our designer will reach out to you to collect any additional details needed to create your design.
Once the designer receives all the info necessary it will take 3 – 5 days before you see a design proof.

Your design proof MUST be signed off on prior to the bat being processed for manufacturing.
This can be written approval via email or a signed version of the proof.
** There is a 3 revision design limit, after 3 revisions you will be requested to pay an additional $20 for 3 additional revisions.
A revision is a CHANGE to a design and is NOT a full redesign or change in direction completely.
Copyright Guidelines to Avoid
Movie Covers
Movie Quotes / Song Lyrics
Celebrity Photos
Famous TV or Movie Characters (Check the public domain for exceptions like Thor)
Professional or Collegiate Teams – Colors and themes from the team are acceptable but no logos, fonts or verbiage.
All artwork from famous artists must come with a signed written permission from the artist themselves.
Any logo usage from sponsors or companies also will require written permission.
Drugs or drug references and related items.
** We will NOT accept any requests to copy another bat company's design or bat name**
Almost everything else is fair game! If you have additional question please reach out to a rep or email our design team at [email protected]
Order your Custom Softball bat now
Gallery of some of our previous customs